✓ 10.000+ chemicals in stock
✓ Custom Synthesis service
✓ Free Quotations within 24 hours
Search our product catalogue:
✓ 10.000+ chemicals in stock
✓ Custom Synthesis service
✓ Free Quotations within 24 hours
We provide a wide range of high-quality research chemicals. More than 10.000 compounds can be delivered from stock.
007Chemicals offers a high-quality custom synthesis service. All products come with complete certificate of analysis.
We aim to deliver all in-stock products within 48-72 hours. Shipment is available worldwide.
For bulk orders or custom synthesis requests we are happy to give you a free quotation within 24 hours.
About 007Chemicals
007Chemicals is a supplier of high quality research chemicals (chemical building blocks). Our focus is to provide chemical research compounds in a fast and convenient way for a sharp price via our online platform.
✓ More than 10.000 chemical compounds in stock
✓ Quality guaranteed Custom Synthesis service
✓ Excellent customer service
Any questions? Feel free to ask!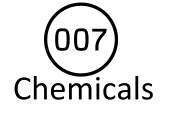 Custom Synthesis Service
007Chemicals works together with high-end manufacturers to synthesise the compounds you need for research. All products will be tested and analytical data will be complementary.
✓ Products include a complete certificate of analysis
✓ Free quotes within 24 hours
✓ Fast lead times